Telecommunications Project Management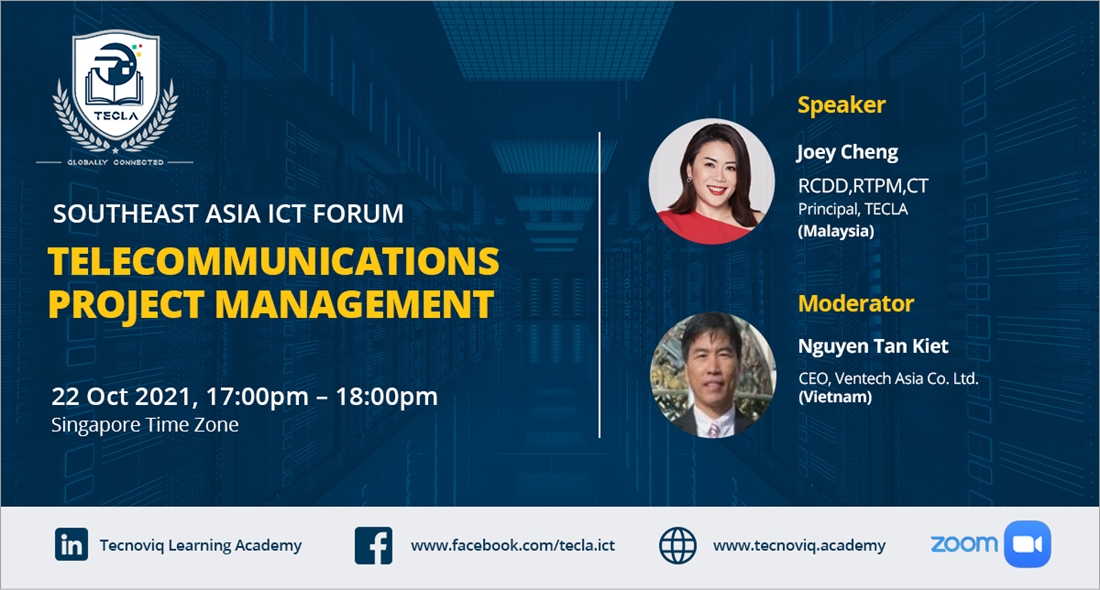 About The Event
Southeast Asia ICT Forum
You are invited to join us for the "Southeast Asia ICT Forum_Telecommunications Project Management " Webinar.
Register now!!
For more info email: event@tecnoviq.academy
Remarks: For the additional attendees, please register separately to book the event.
In recent years, the rapid progress of science and technology has cemented ICT as an indispensable part of our society. In fact, a study by the International Data Corporation (IDC) forecasts an accelerated increase in worldwide ICT spending over the next two years, with a predicted figure of almost $6,000,000 in 2023. Given the considerable increase in ICT spending, there will undoubtedly be more ICT projects in place to implement and improve existing infrastructure. Naturally, this will result in a higher demand for high-quality project management. Within a project, there are often three key aspects involved – time, budget, and scope.
Good project management is able to identify these risks and implement the necessary measures to mitigate or prevent them.
Effective project management is essential in ICT projects- highly increasing the chances of a project being completed on time and on budget, with minimal risks.
Outline :
📣Introduction of Telecommunication Project Management
📣How important of TPM into Smart Building Projects
📣Project management is essential in ICT projects.
📣Case Study
Speaker Biography :
Ms. Joey Cheng, Founder & Managing Director of Tecnoviq Group with over 20 years of experience delivering robust ICT solutions and Project Management, specializes in ICT designer and Project Management.
Besides working in Malaysia, she was also involved in several overseas projects in the Middle East and Southeast Asia. With all the regional exposures and experiences, Ms. Joey is well placed to assist any clients in Malaysia looking to expand globally.
Joey is always seeking new challenges & proud to be the first female in Malaysia to received the RCCD & RTPM accreditations from BICSI. With a lot of hard works & endurance, she successfully passed & attained the RCDD & RTPM credential status. These will fully show her potentials & creditability with the global standard in the ICT community. She has a strong mission to upskill the ICT standards and build a solid foundation for the Malaysia ICT Industry.
Location
Our Speakers
Register online, get your ticket, meet up with our inspirational speakers and specialists in the field to share your ideas.