Telecommunications Bonding & Grounding – Industry Standards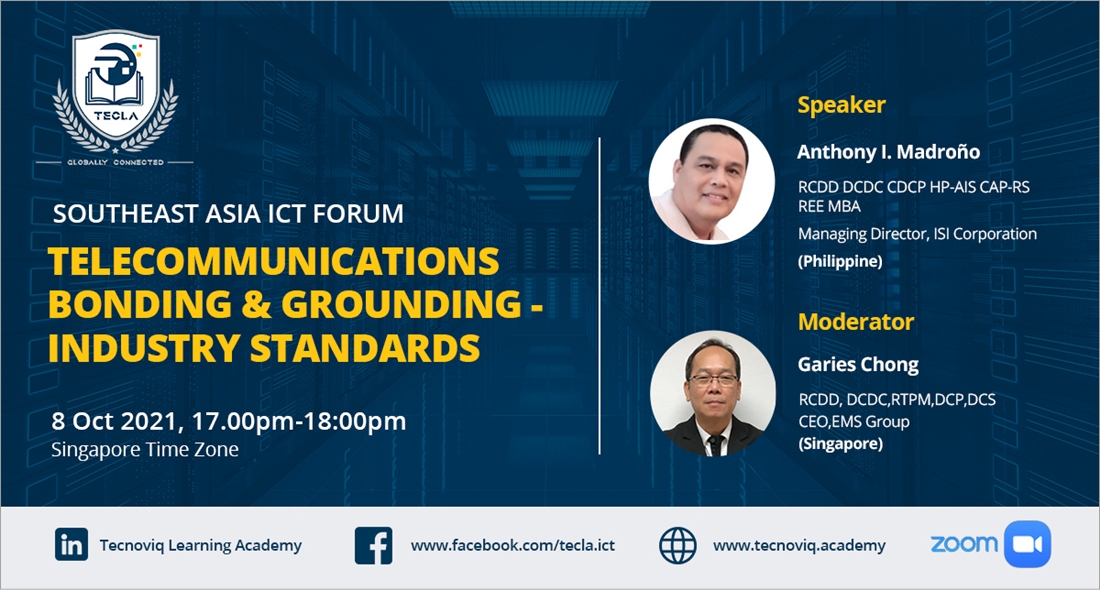 About The Event
Southeast Asia ICT Forum
📣 You are invited to join us for the "Southeast Asia ICT Forum_Telecommunications Bonding & Grounding – Industry Standards " Webinar.
📣 Register now
📣 For more info email: event@tecnoviq.academy
.
Remarks: For the additional attendees, please register separately to book the event.
The objective of this presentation will, in the future, provide local ICT designers, contractors, and practitioners a better view on the needs of correct and rightly designed, installed and testing of any ICT required Telecommunication Grounding and Bonding Systems on various projects being handled that is in conformance and compliance with established industry standards or codes.
Various International Standards relating to Telecommunication Grounding & Bonding will be presented including but not limited to IEEE, NFPA, TIA ISO, and CENELEC or local Telecommunication Grounding and Bonding provisions in any given country or region.
Presentation Outline:
           Introduction
           Importance of Grounding & Bonding System
           Different components of Telecommunication Grounding & Bonding systems
           Sizing up the Grounding Conductors
           Various Test Reference Value on Ohmic Grounding Resistance
           What is Grounding System Area of Influence
           Required Test Ohmic resistance
           Correct Test Methodology in Testing Grounding Resistance
           Various Reference Manual and Standards
          Conclusion – Summary
Speaker Biography: 
A Registered Electrical Engineer and ICT practitioner with more than Thirty (30) years of Engineering Design & Estimate, Project Management & Implementation, Technical Consultancy & Management, Marketing & Sales oriented work experiences. Having had training & certifications that include BICSI's RCDD DCDC and CT. HP-AIS from HP-Aruba Network Switches together with CAP-RS certification from Allied Telesis Network Switches. Another certification covers the recently revised standard on Telecommunications Infrastructure Standard for Data Centers under ANSI/TIA-942-B, with CDCP (Certified Data Center Professional) Certificate from EPI and with The Uptime Institute Accredited Tier Design (ATD) training Module for Data Center Design. A practitioner with a good body of knowledge and familiarity of US Army Corps of Engineers (USACE) Unified Facilities Criteria (UFC-3-580-01:2016): Telecommunications Building Cabling Systems Planning and Design, and the US Army I3A Feb 2010 – Technical Criteria for The Installation Information Infrastructure Architecture. Handles review and evaluation, for RCDD Stampings, of Detailed Plans, Shop Drawings of Telecommunication projects in Guam, Hawaii, Singapore, South Korea, Japan, Dubai-UAE, Kuwait, and KSA for various off-shore companies that require such BICSI RCDD
STAMP review and evaluation compliances. Lastly, an organizer of the yearly BICSI Technical Conference & Exhibition for BICSI Southeast Asia
Philippines as Philippine BICSI Country Chair from 2015 to 2018 and as BICSI Southeast Asia Vice-Chair from 2019 up to the present. And a regular BICSI & IECEP conference speaker in the Philippines, Japan, Singapore, and Dubai – UAE.
Location
Our Speakers
Register online, get your ticket, meet up with our inspirational speakers and specialists in the field to share your ideas.