Latest Standards and Best Practices in Fibre Optic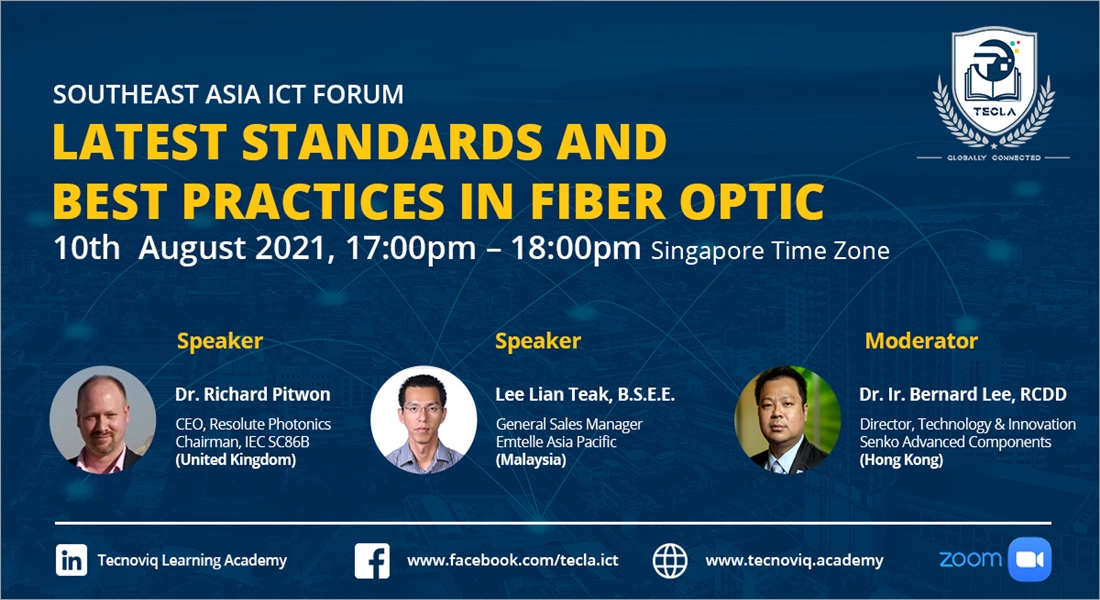 About The Event
Southeast Asia ICT Forum
📣 You are invited to join us for the "Southeast Asia ICT Forum_Latest Standards and Best Practices in Fiber Optic" Webinar.
📣 Register now!!
📣 For more info email: event@tecnoviq.academy
Remarks: For the additional attendees, please register separately to book the event.
Optical fiber technology has consistently gained popularity in the past decade especially with the global deployment of Fibre-to-the-Home, the popularity of social media among the 'digital' generation, and also highspeed wireless connectivity such as 4G and 5G. Optical fiber has been regarded as the arteries that carry exponentially growing demand for bandwidth, capacity, and performance. Every year almost a billion optical connections are being deployed amounting to approximately US$6billion in 2020. Therefore it is essential that such massive deployment of fiber optics follows and comply with the international standards and also the regional best practices. It is only with such standards and best practice compliance that the network is assured in terms of performance, reliability, and also future scalability.
Through this webinar, Dr. Richard Pitwon, Chairman of IEC SC86B will share the recent development of optical standards from the International Electrotechnical Commission (IEC), which is the international standards and conformity assessment body for all fields of electrotechnology.
Mr. Lee Lian Teak, a highly experienced engineer from Emtelle, will share real-life experiences of innovative approaches in optical fiber deployment focusing on methodologies that comply with regional best practices and also less disruptive to the environment and infrastructure.
Speaker Biography :
Dr. Richard Pitwon is the founder and CEO of Resolute Photonics and has more than 20 years of transformational expertise in optical and photonic system interconnect integration, and architectures for data center, IoT, and data-communications applications. He previously led the photonics research and development groups at Xyratex and Seagate for over 12 years. He is a Chartered Engineer (CEng), Fellow of the IET (FIET), and Fellow of the Institute of Physics (FInstP). He has generated over 54 patents, authored over 50 peer-reviewed publications including 4 international standards. He is the current chair of the IEC international standards subcommittee on fiber optic interconnecting devices and passive components (SC86B), as well as secretary of the IEC optical circuit boards standards group and principal UK expert on international standards group (IEC / BSI) for Photonic Integrated Circuits (SC86C/WG4) and embedded devices (TC91/WG6). He is also the chair of the IEEE UK and Ireland Photonics chapter, where he founded the IEEE British and Irish Conference on Optics and Photonics.
Mr. Lee Lian Teak is the General Sales Manager of Emtelle Asia Pacific and responsible for the sales and operations including sales activities, supply chain, service, and support in all markets and countries in the Asia Pacific region. Before being named General Sales Manager, Lee was Emtelle's Regional Manager and was responsible for the company's sales activities in the Asia region. He also played a key role in the continued development of strategic reseller and supplier relationships, ensuring flexibility in response to an increasingly demanding marketplace.
Prior to joining Emtelle, Lee was an electrical engineer of a mechanical and electrical consultant firm and was responsible for the design, coordination, supervision, implementation, etc of electrical and building automation services. Lee earned a Bachelor of Science degree in Electrical and Electronic Engineering from University Technology Malaysia.
Location
Our Speakers
Register online, get your ticket, meet up with our inspirational speakers and specialists in the field to share your ideas.