IOT for Home & Business Applications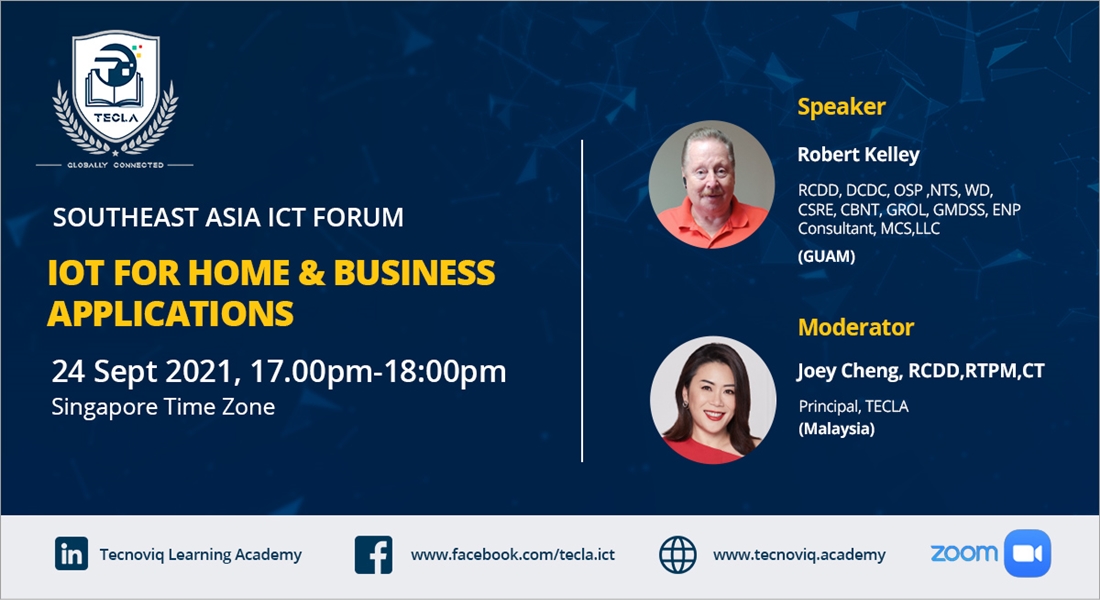 About The Event
Southeast Asia ICT Forum
📣 You are invited to join us for the "Southeast Asia ICT Forum_IOT for Home & Business Applications " Webinar.
📣 Register now
📣 For more info email: event@tecnoviq.academy
Remarks: For the additional attendees, please register separately to book the event.
The Internet of Things is making our life easier and more comfortable. The demand for IoT devices is increasing at an exponential rate. We need the 5G networks and broadband technologies to provide the increased bandwidth required to interconnect IoT devices.  High power computing utilizing the latest chips and evolving technologies will permit more IoT devices to be condoled by Artificial Intelligence and Machine Learning.
The growth of IoT is raising, many security and privacy issues. As the devices are interconnected through the public internet there are vulnerabilities for unauthorized access.  This can result in hackers taking control of the IoT devices and causing disruption and chaos.  It can also result in private information like name, address, date of birth, health data, or credit card information being compromised. It is essential that we consider the security of our IoT devices as we deploy and maintain them.
IoT is a game-changer. It improves our lives by automating our routine tasks providing monitoring of our homes businesses and even our health!
Speaker Biography :
Mr. Kelley has more than 25 years of experience in telecommunications design, project management, and regulatory approvals in Guam, the Pacific Basin, and other international locations. He designed and managed various telecommunications projects in Guam and in the CNMI. Mr. Kelley designed and installed networks including a Sprint packet data switch for Guam and the digital audio feeds for Guam and CNMI's Public Radio stations utilizing satellite links between Guam and Brewster Washington. Mr. Kelley was the project manager for the Inter-Island Distance Education Television system for Northern Mariana's College ("NMC"). In addition, Mr. Kelley designed and installed the network routers and satellite links connecting the NMC LAN to the Internet. He has also designed and managed the installation of Public Switched Telephone Network switches, cellular telephone systems satellite earth stations, and international long-distance services in Russia and data (packet and TCP/IP) and voice communications networks throughout the Pacific. Mr. Kelley has been a leader in the design and use of derived digital low-bit rate voice circuits for thin route Intelsat services to provide service to rural Pacific islands. He has published and presented papers at various Pacific Telecommunications Council meetings regarding the impact of telecommunications technology and policy on the Pacific Islands and communications regulatory issues affecting the US Territories.
In 1992 Mr. Kelley received a license from the Guam Contractors License Board as a Responsible Management Employee ("RME") for Electronic Systems and Telecommunications installation and construction projects. He holds a Commercial General Radiotelephone Operator License, GMDSS Radio Operator/Maintainer with Ship Radar Endorsement, and an Amateur Extra Class License issued by the Federal Communications Commission. Mr. Kelley is a member of the National Emergency Numbering Association ("NENA") and is certified by the NENA Institute as an Emergency Numbering Professional ("ENP"). He is a Member of the Society of Broadcast Engineers ("SBE") with certifications as Senior Broadcast Radio Engineer ("CSRE"), Broadcast Technologist ("CBT"), and Broadcast Network Technologist ("CBNT"). Mr. Kelley is an individual member of the Pacific Telecommunications Council and holds a Certified Professional Membership in COMPTIA with certification as Network+. He holds BICSI certifications and a Registered Communications Distribution Designer, with Data Center Design Consultant, Outside plant, NTS and Wireless Design Specialties (RCDD/DCDC/OSP/NTS/WD), and he holds professional certifications from the National Association of Radio and Telecommunications Engineers ("NARTE") and the Electronics Technicians Association International ("ETA-I"). Me Kelley has professional membership in IEEE and APCO.
Location
Our Speakers
Register online, get your ticket, meet up with our inspirational speakers and specialists in the field to share your ideas.